Haha.  You have been fooled!  That's right… this isn't a post on how to find the best airfares. Nor is it a post with tips for budget travel.
Nope.
My friends, you have been duped into reading a post about currencies.  Because it is the strength of the US dollar that has saved us 20% on our trip.  1<- – – Click this little footnote.
Wait, what?
The Effects of FX
You see, had we embarked on this trip one year earlier, it would have been more expensive.  A lot more expensive.  And it all has to do with the way global currency markets are constantly moving.2
So I'm going to try to play DJ and mix a nerdy concept like exchange rates with something cool like travel.3
Because you can actually work out some very nice vacations if you are willing to travel to a location where the local currency has fallen against the Dollar.4  It's a great feeling to order a prime steak, all the sides and appetizers you want, a nice bottle of wine… and then get the bill, divide-by-whatever to convert to Dollars, and say "wow that was cheap."
So what does all that exchange stuff mean?  Why has it "saved" us money?  Well, as you might have heard in casual conversation around the water cooler recently,5 the US Dollar has been king of the foreign exchange – or "FX" – world.
Over the past year, the Dollar is up against almost every other currency in the world, which means that $1.00 USD today will get you more of everyone else's currency than it would have a year ago.6
Since Lauren, Johnny Cas, and I started our trip in Japan, let's use the Japanese Yen as an example. When we arrived in Tokyo and hit the ATM, we withdrew 50,000 Japanese Yen.7
That 50,000 Yen withdrawal cost us a little over $403 dollars.  Had we started our trip one year earlier, the same 50,000 Yen withdrawal would have cost us $493 dollars.  So we "saved" about 90 bucks due to the Dollar gaining almost 20% against the Japanese Yen over the past year.8
You see, in July of 2014 the exchange rate was $1.00 USD = 101 Japanese Yen.  In July of this year, the exchange rate was $1.00 USD = 124 Yen.  So just like that, Lauren and I got an extra 23 Yen – or 20% more Yen – for every dollar we exchanged.9
The Return of King Dollar
But it's not just Japan. For Indonesia, Malaysia, and Singapore we also got a "discount" as the Dollar today is stronger than a year ago by 13%, 16%, and 9%, respectively.10
Nor is it just the Asian currencies that have fallen against the Dollar. Let's take a look at a financial product/thing called "The Dollar Index."  The Dollar Index is a numerical way to express the value of the US dollar against a basket of other major currencies.11  Said differently… the Dollar Index is a number.  When it goes higher, the Dollar is getting stronger.  When it goes lower, the Dollar is getting weaker.12
And when you chart it, the result looks like this: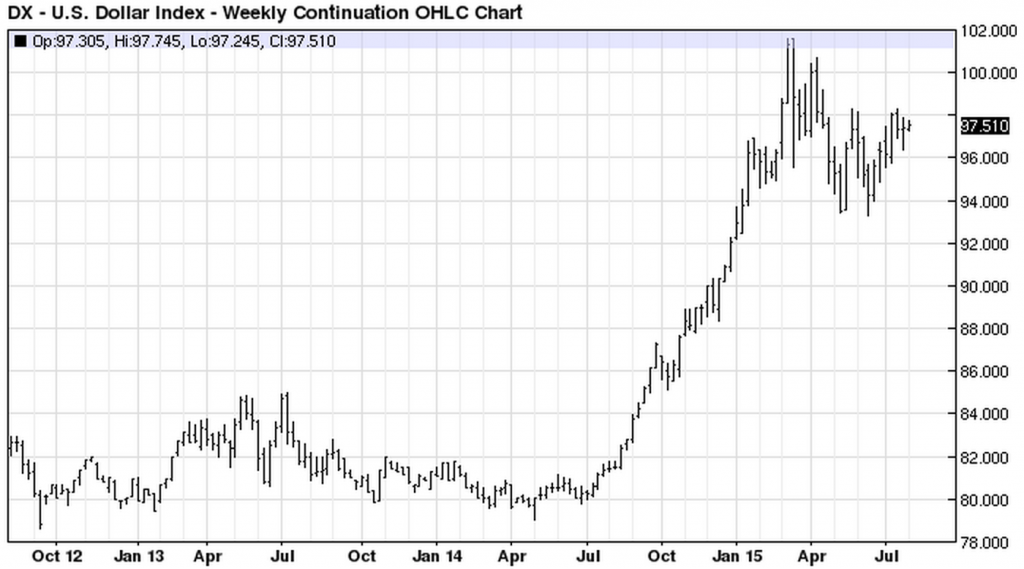 As you can see… in mid-2014 the Dollar took off.13  This rise in the US Dollar represented broad strength against all of our major trading partners.
Here's a quick chart I threw together showing the change in the US Dollar against what we currency-trading nerds call "the Majors" over the past year:14

As you can clearly see… the Dollar has had a great run against "The Majors" over the past year. But it's not just these large mega-economies whose currencies have lost ground against King Dollar.
Question:  Does your country export oil or natural gas?
Well, then I don't need to tell you that your currency has been kicked in the teeth this past year as energy prices have plummeted. Let's look at a sample the "oil & gas" currencies:

Note: Several of the major oil/gas exporters artificially peg their currencies to the US Dollar so the rates do not change. (i.e. Saudi Arabian Riyal, U.A.E. Dirham, and the Qatari Riyal).
As you can see… it has been a really bad year for those currencies as well.
But it's also not just an oil & gas thing. If you are major exporter of other commodities OR if you are an emerging or frontier market… then guess what: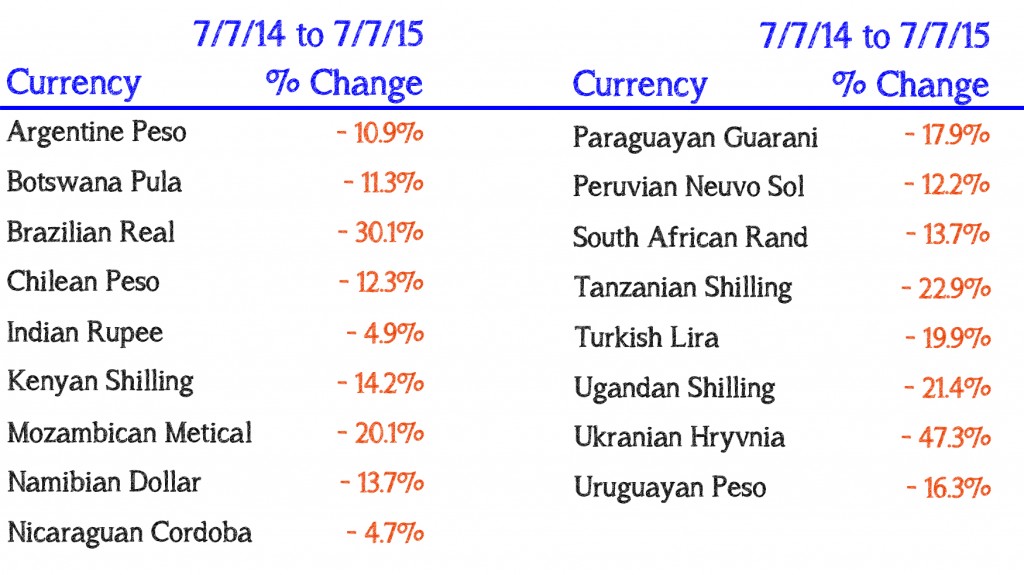 Yep.  It's just a sea of red out there.  The US Dollar has basically beaten them all.
So are any currencies up against the US Dollar, you may ask?15  Why sure:

Well, ok then.
I guess Lauren and I won't be going to Ghana or Sierra Leone this year.16
Making Sense of Cents.
Ok, so now you probably have a question in your head.17
What makes these currency rates move around?  Why does one currency gain on another?  Why did Lauren and I order 20% more sushi in Tokyo than we would have last year?18
To address that question… we'll need to go all super-nerd with the next post in our The Effects of FX series.
A new two-part-series which you can find here.
Thanks for reading,
Christopher
Position Disclosure:  Long EUR.USD and short USD.JPY at the time of writing.
The BackpackInvesting.com & BGIP Disclaimer
All market commentary and any other financial references featured on BackpackInvesting.com represent the opinion of the author and are not be construed as investment or trading advice.  Such articles and commentary are not meant to be a solicitation or recommendation to buy, sell, or hold any securities mentioned.  In the event that the author has an interest in any security, currency, or other financial instrument or product mentioned, that position will be disclosed at the time of writing, both for the accounts of Brentwood Global Investment Partners, LP ("BGIP") and for the author's personal accounts.