September 18, 2015
Bay of Kotor, Montenegro
—
Note:  Before you read any further… click this link and let the song play quietly in the background.  You'll know why soon…
—
Dear Dollary,
So I knew I wanted to come to Montenegro just to rent a car and drive a certain road.
Specifically, the 25 hairpin-turn road from Kotor – through Lovcen National Park – to Cetinje.  And what a road it is.  This is… in my best Jeremy Clarkson voice… simply put… one of Europe's greatest drives.
The whole thing is just magnificently fun.  And while a blog play-by-play cannot do it justice.  I'll try.
So the google map directions look like this:
And that crazy little part that I boxed out in red is one of the best parts!  It is, no better way to say it, 25 "hairpin" turns.  They are actually numbered as you go.
And it is so much fun to drive, that by turn number 23 or 24 you are saying "no! please don't be over." 1
Here's what each turn looks like:
Oh, and that stud parked on the side of the road is our little ëurope-car… which we named Goose.  He was named that because the second I got in and started up all 17 horsepower of his 2 cylinder engine… Kenny Loggins' Danger Zone came on the Croatian radio station. 2
The drive starts out great before the 25-turn part even begins, with a nice view of the bay after the first part of the climb: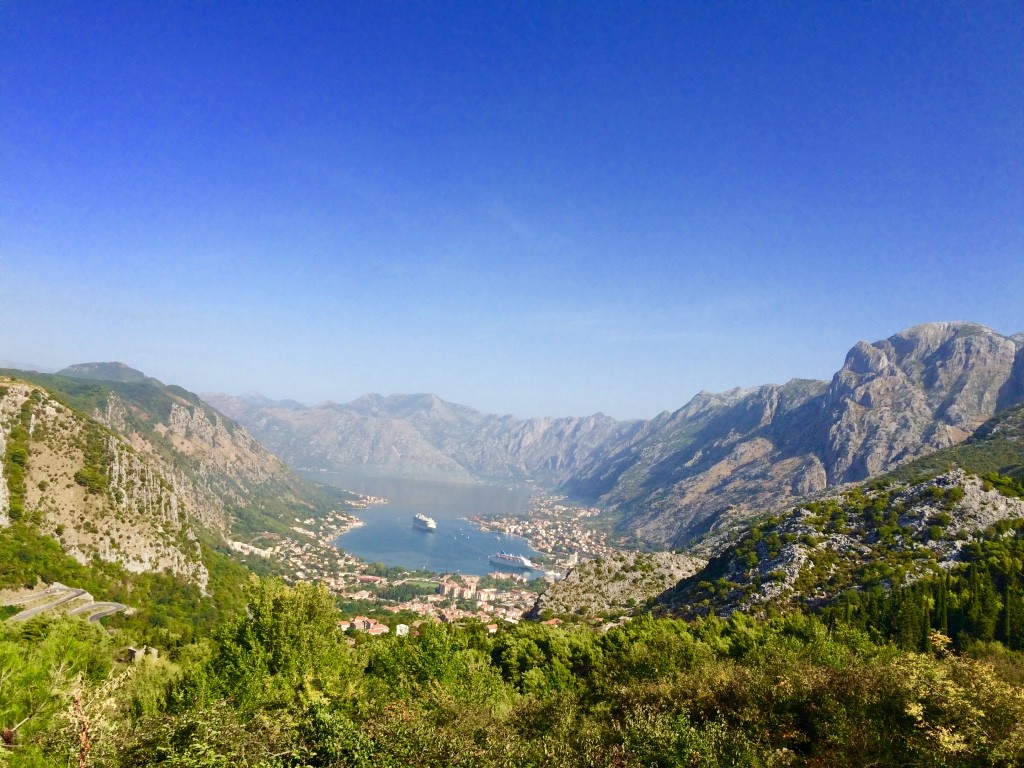 During the drive up, it was hard to get a good picture,3 but along the way you have views like this off to the side: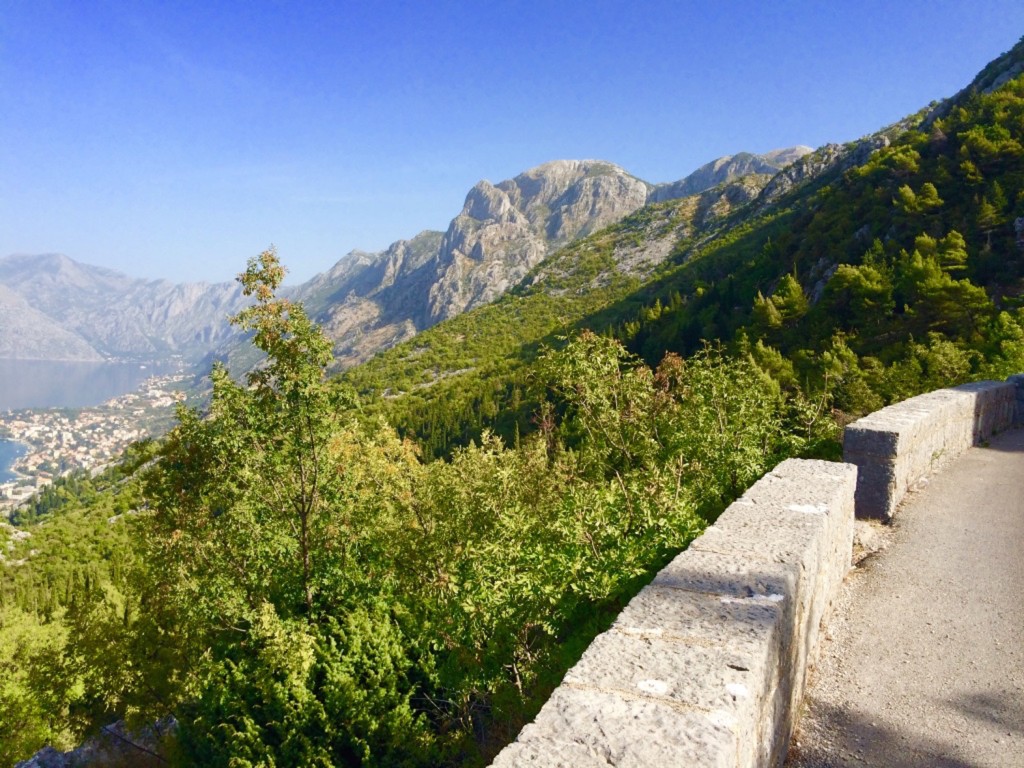 And when you pull over for a second, you get better ones like this one around turn 10: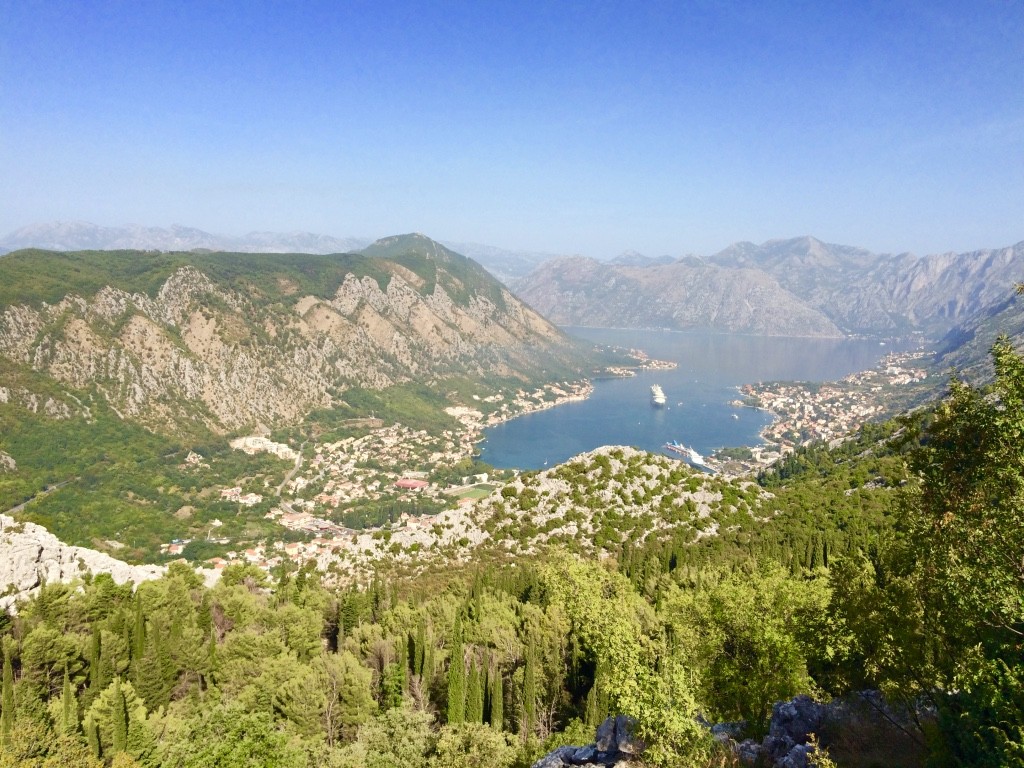 …which gets even better at about turn 21 or so: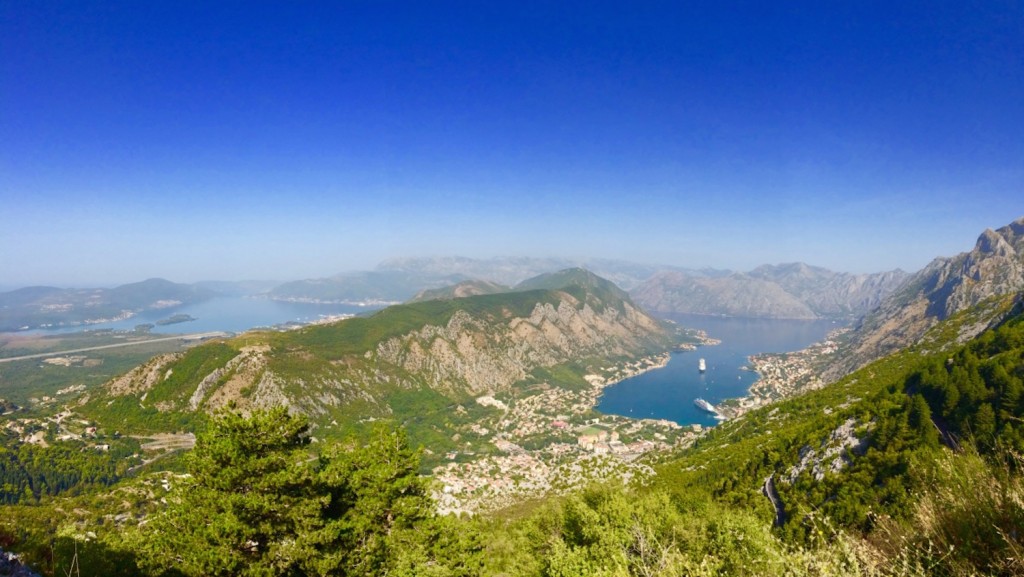 Once you have driven up the crazy road, stopped at each of the 25 turns to take a bazillion pictures, and cruised slowly through the national park breathing pollution free Montenegro air…  you can climb the 400-some-odd steps to the very top and will be rewarded by gorgeous views on all sides.  I was told you can see 80% of Montenegro from up here.
So I guess here's 40%: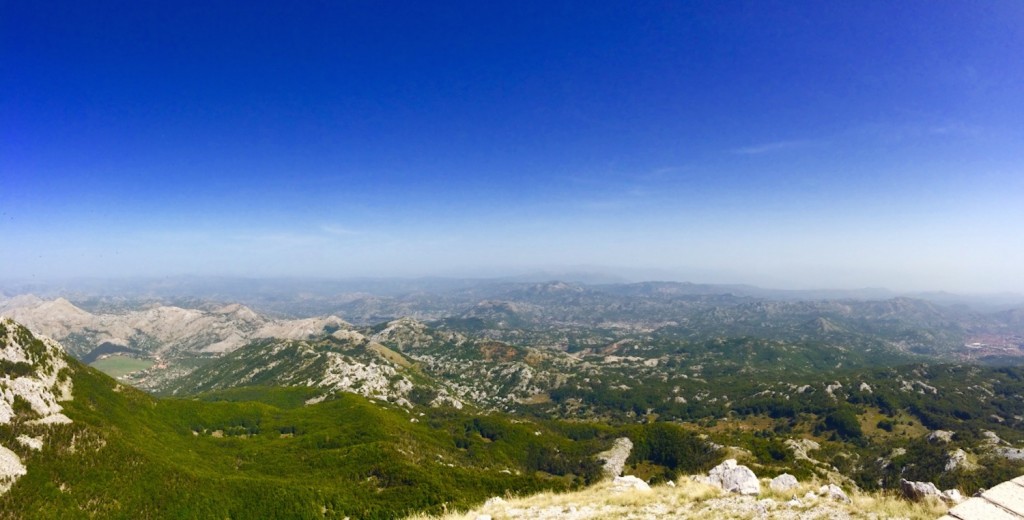 …and here's the other 40%: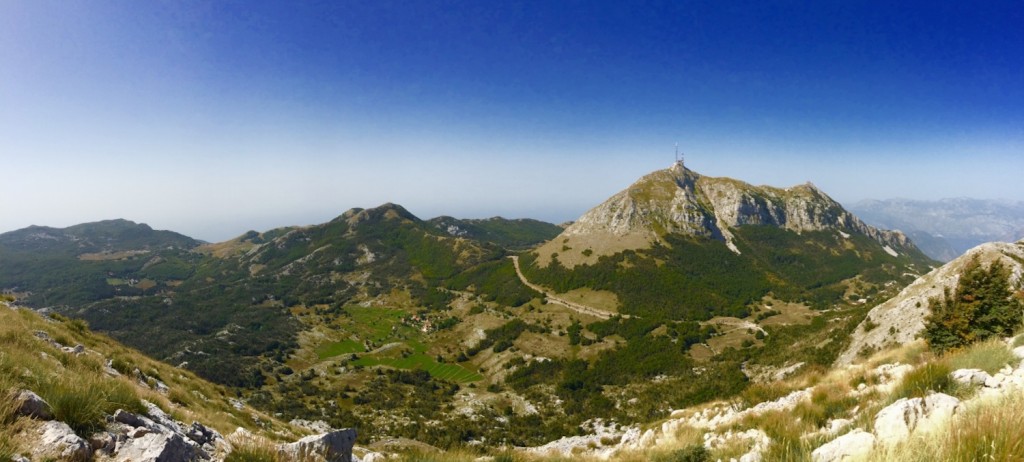 And I'm guessing the 20% you can't see is awesome too.
Montenegro is beautiful.  Like many other places we've visited… it's just too bad we don't have a few weeks to explore the rest of this country!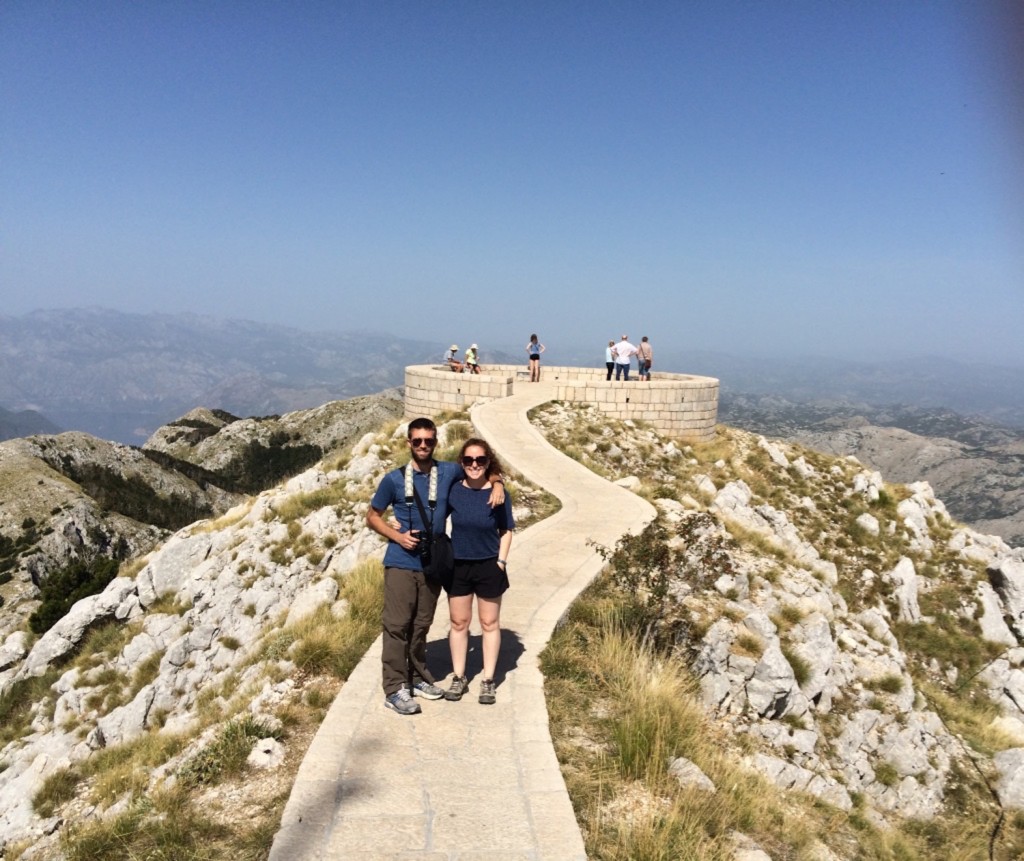 In all honesty, we were getting a little burned out on cities.  So our five days on the Bay of Kotor was just the break we needed.  In addition to driving this amazing road, we kayaked across the bay,4 hiked the city's walls, and had some amazing meals… as RedheadRoamer.com will cover in full detail soon.
The entire bay is just awesome.  Each little cove reveals another beautiful or amazing or charming view.  Like this: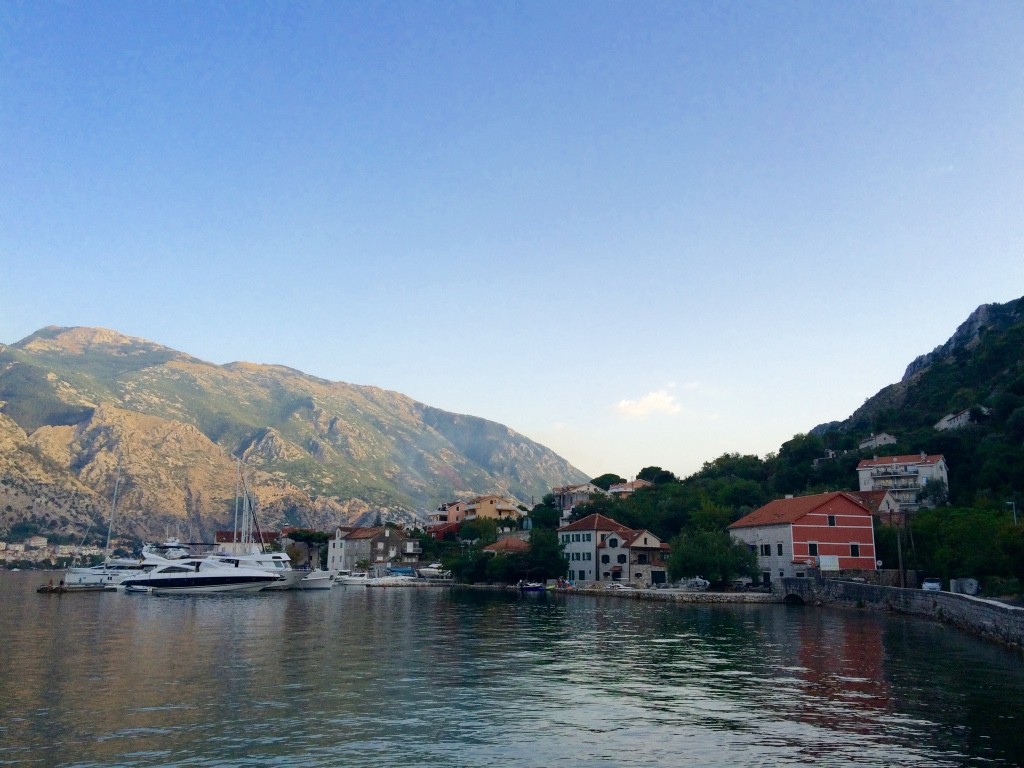 In a few days, we head back to Dubrovnik, Croatia to meet up with some friends from the US.  Until then… it's two days of trying to catch up on blogging.
Which will be hard to do.
Because this is the view from the patio of our awesome little AirBNB apartment here:
Yeah.  The Bay of Kotor really is that beautiful.
Thanks for reading,
Christopher 5