Ok.  Close your eyes.
Actually, wait, open them and look at this picture first: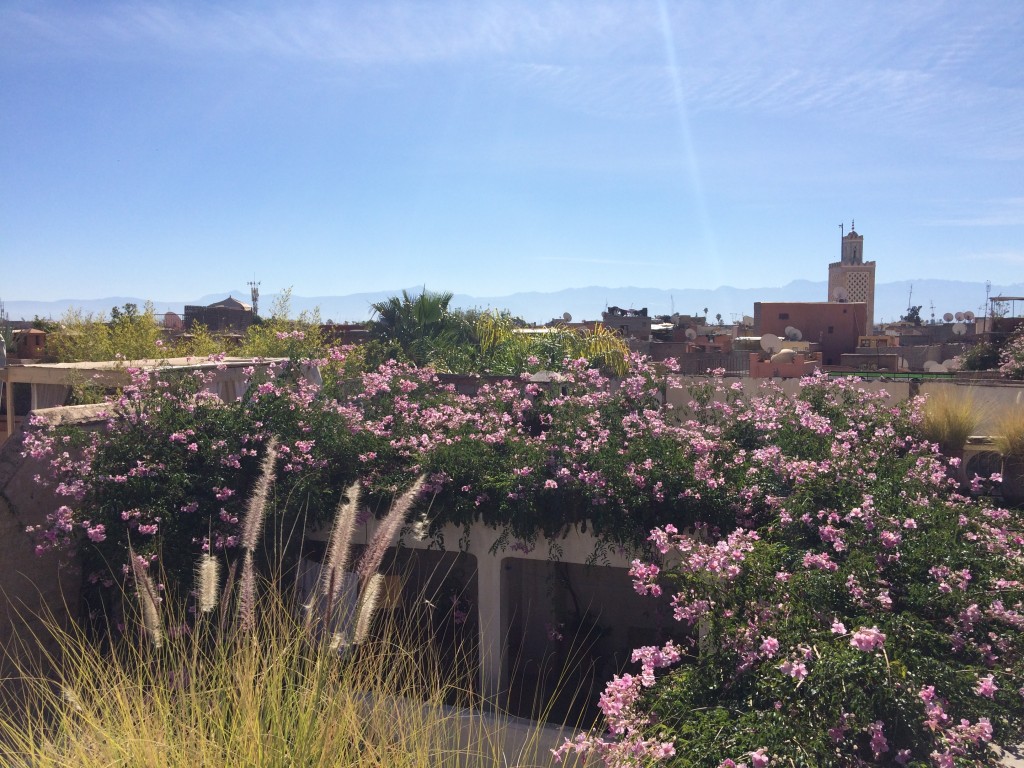 That beautiful setting is our lovely, relaxing, traditional Riad in Marrakesh, Morocco.1
Ok, so now close your eyes.
You are in that courtyard.  It's a cool, calm, oasis and you can actually hear small songbirds chirping from the roof.  Oh wait, they are actually at your table.  These songbirds in fact:
It is a lovely fall day and beautiful pink flowers are blooming in the vines that flow throughout the Riad.  You can smell them from your comfortable seat at the table.  The cool breeze is drawn down into the courtyard, keeping it a perfect 70 degrees.  The morning call to prayer softly echoes in the distance from a nearby mosque minaret.  With your eyes closed, you imagine the exciting day that lies ahead of you.  You see yourself strolling casually through the souk in search of wonderfully exotic souvenirs, chatting up local shopkeepers who mix Arabic, French, and English with a smile, and seeking out the perfect lamb tajine for dinner.  Sounds lovely doesn't it?  Like something out of a movie.  Ah, the Morocco of our dreams.
But then you are suddenly on the streets of the Medina, violently jolted awake from your happy trance by the roar of a moped engine that comes around the corner without warning.  You frantically jump to your left, narrowly avoiding being run over.  Right into a pile of donkey poop.  After shaking that off and consulting your map, you turn the next corner and are now headed toward the main square.  You are 100% sure of this because you have GPS on your phone so you know that it is the correct way.  But then a group of four guys step into your path and say "No, this way is closed.  The square is back there."
You ignore them, because you have learned that many will mislead you for their own benefit, and continue on your way.  You make another turn, but have to hug the wall for two or three minutes while a donkey cart passes.  The owner/driver makes no attempt to stay to one side of the road so you press closer to the wall: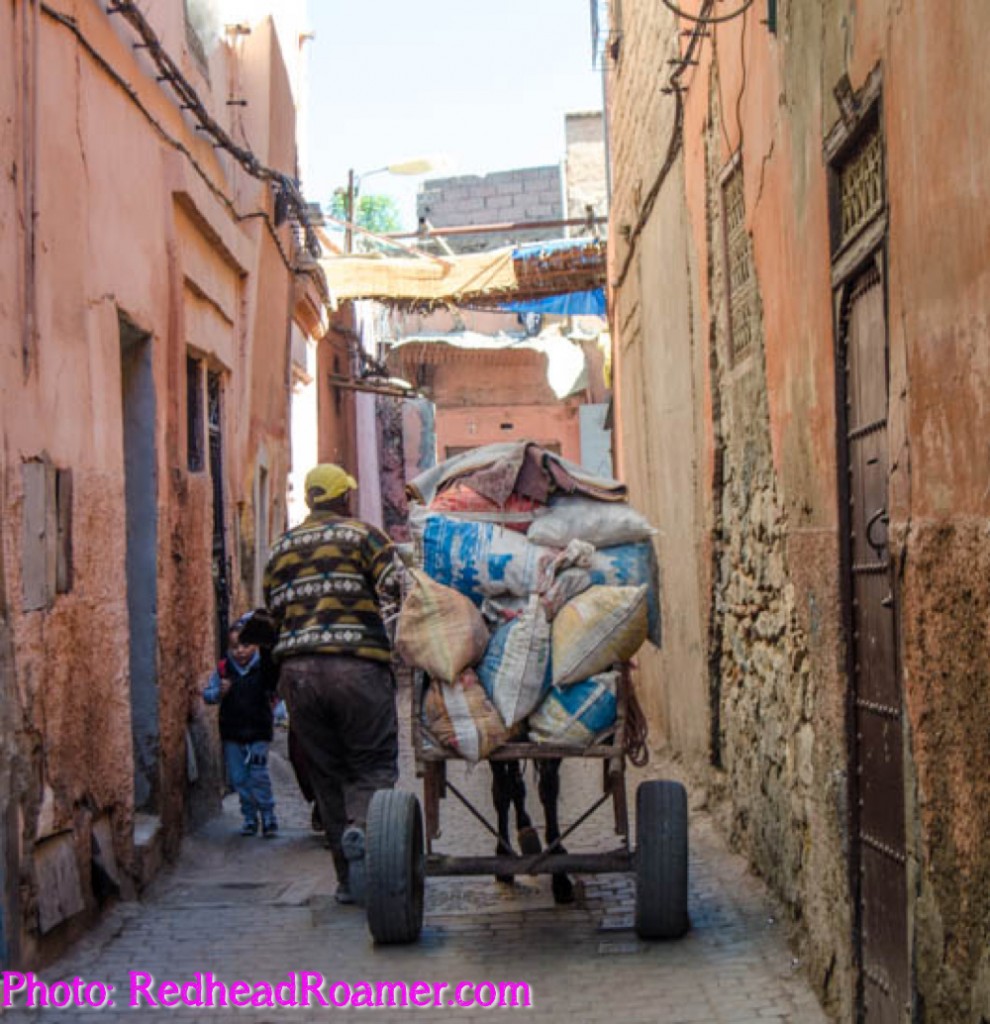 Ok, once he's gone and 18 more motorbikes pass by… you are headed to the square again.  But between you and the square lies a long and windy cheesy-souvenir souk.  And the owners/operators of those stalls have one goal: to keep you from getting down the street without a purchase.  They lure you in, not with a charming smile and an offer of mint tea – as they would in Egypt or Turkey – but by grabbing your arm and probably saying "spices?  slippers?  a wallet?  a carpet?  your freedom?"2
You don't want any of this stuff, so you basically plow your way through the souk in the style of an American Gladiator gauntlet match, but in the end you get to the end of the street.3
Another 10 to 27 more kids, teenagers, and random super-shady looking dudes also get in your face to tell you this way is "closed" but that they can/will take you to the tanneries, but you manage to avoid them too and eventually they leave you alone.
Finally, with your energy almost expended, you have made it to the square!  Whew.  You pause and take a deep breath, ready to appreciate your victory.
…And then six women with books showing their expert henna tattoo work surround you, trying to grab your wife's arm.  You also fight your way through them, thinking maybe the other side of the square will be better.  Between you and greener pastures, though, lies a row of orange juice vendors.
Oranges thrive in Morocco and as such are fresh and everywhere, so the thought of a 4 Dirham (about $0.40) fresh squeezed orange juice might sound nice… but you don't dare.  Partially because each of the 14 vendors are screaming at you to come to their stand and it is really really annoying.  And also because you read that it is a scam.  Once you take the orange juice, they will tell you that you got the fresh-er oranges or a difference size drink or a mix of blood-oranges and so you actually owe them 100 Diram ($10).  Or that they meant 4 dollars not dirham.  Or something like that.  So you don't get an orange juice.  4
Next up and also in your way on Moroccan Gladiator are the food stalls: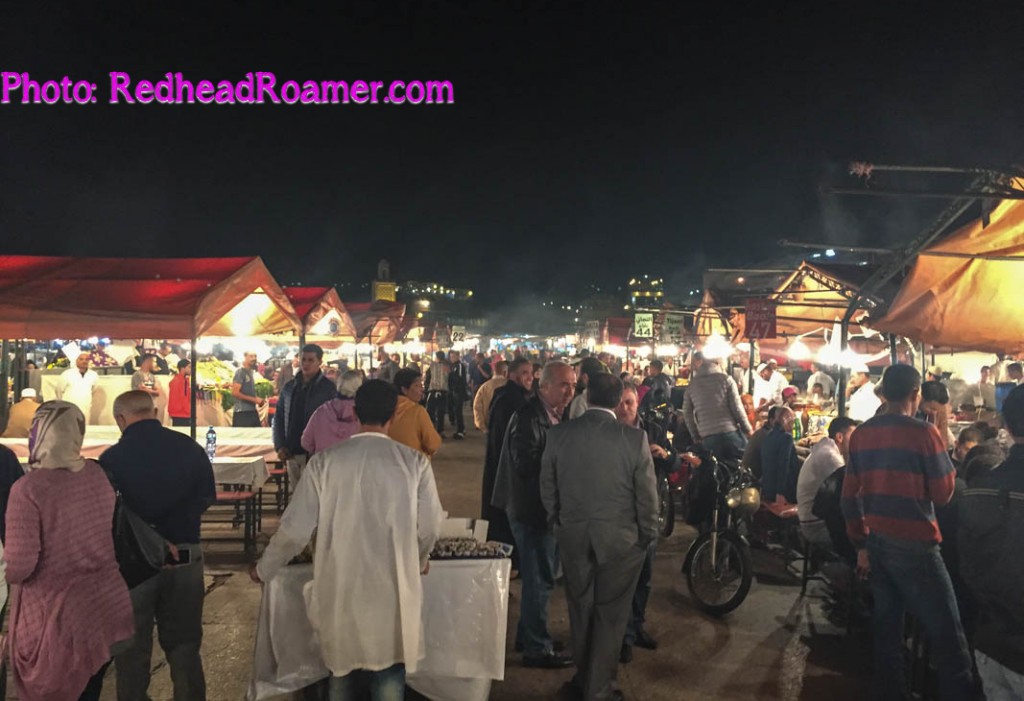 More of the same.  The food vendors will also yell at/to you.  Some are just pushy ("Hey, you, eat here, best food") and others have either funny or annoying lines (depending on how many times you've heard them) such as "eat at stall 107, it will be heaven" and if they don't grab your arm to show you from up close, the vendor will stuff a card in your hand with the number of the stall.  I think I threw away about 10 of those cards.
By the time you get all the way to the other side of the square, you cannot remember for the life of you why you even ventured out.  It's cool though, you'll just head back to your Riad to relax for a while before dinner.
And then you realize you have to go back through all that again.
La, Shukran.  Non, Merci.5
No, seriously.
That experience, which is only slightly exaggerated, is why I was not a fan of Morocco.  It was my fault I guess for having super high expectations of the place.  That started with the food – which WAS amazing in my opinion – but I expected something more like Istanbul or Cairo from our day to day walking around.  Both are crowded places and have pushy vendors and salespeople.  Both have loud, wild streets with lots of motorbikes, crazy intersections to cross, and even the occasional donkey cart.  Lauren and I have both been to tons of places where we mix with locals and leave the normal bubble that Western tourists tend to seek out.  So I don't think that was the problem.
I guess the best way I can describe the difference in Morocco, sadly, is that there was a friendly, welcoming, and polite nature to everyone I met in Turkey, Egypt, Indonesia, etc.  After refusing a pushy sales tactic, you still get a smile and probably a "thank you for visiting" and "come back again please" comment.  But honestly, I found 9 of 10 people I encountered in Morocco to be, well, very rude (to be fair, we were only in the Medinas of Fez and Marrakesh – I cannot speak for other locals or in other cities).  In many places we've visited on this trip, locals and even the pushiest of salespeople seem proud of their country and are still glad you are there.  I honestly felt that the average person we encountered in Morocco was annoyed by us and could care less that we were there (especially if we were not buying).
Now, our two Riad owners were very very friendly, as were most of the servers at the restaurants we visited, so for that reason alone it was kinda hard to write this.  They are not the problem and I truly do hate putting their country down.  But those five or six people aside, everyone else I encountered seemed to either try to deceive us or was generally rude and too aggressive.  Or both actually.
So here's the thing… to sum up my thoughts on Morocco, I think a vicious tourist-vs-local circular trap has developed.  When we were walking around, we noticed we were not the only ones that would completely ignore almost everyone who tried to talk to us.6  Maybe they were just being nice with a "hello where are you from?" but after the 5th time you get trapped into a "oh, Chicago, cool, well this way is closed but I can guide you to the tanneries.  Hey, I'm talking to you.  That's closed.  Hey!  This way!" you would start to ignore them too.
So perhaps the locals who live and work in the souks are just mad that all the Western tourists act as if they are not there, which causes them to be a little rude in response.  So maybe it's a circle that can't be broken.  But honestly, I sure was not going to be the one to break it.  If I had tried… I'd still be at food stall number 107 instead of writing this.
I really didn't want to be so negative with my thoughts on Morocco.  I had super high expectations and wanted to love it.  But I have said jokingly in a lot of posts that I need to quit saying everywhere we go is "amazing" or "awesome" or I'll be the boy who cried "awesome."  So here you go.  A brutally honest post about why I couldn't wait to leave Morocco.
Maybe I missed something.  Maybe we did it wrong.  Maybe some of you reading this have been there and are thinking my take is so different than your experience and can't imagine why.
If that's the case, I guess I'd be open to giving it another shot.  But not for a very very 7 long time.
Thanks for reading,
Christopher
P.S.  At some point I guess I'll do another post on the economy of Morocco and I'll definitely share a few positive thoughts,8 because clearly this rant didn't address anything other than my personal negative experience from wandering the Medinas.
Subscribe:
To subscribe to our email updates, please click here.
The BackpackInvesting.com & BGIP Disclaimer
All market commentary and any other financial references featured on BackpackInvesting.com represent the opinion of the author and are not be construed as investment or trading advice.  Such articles and commentary are not meant to be a solicitation or recommendation to buy, sell, or hold any securities mentioned.  In the event that the author has an interest in any security, currency, or other financial instrument or product mentioned, that position will be disclosed at the time of writing, both for the accounts of Brentwood Global Investment Partners, LP ("BGIP") and for the author's personal accounts.