What an Argentinian Bed & Breakfast can teach you about macroeconomics.
In 2011 Lauren and I visited Argentina on a 10-day vacation to foster bilateral diplomatic relationships  in search of amazing steaks, Malbec, and waterfalls. We flew into Buenos Aires and spent a few days exploring that amazing city, which a hundred years ago was one of the wealthiest cities in the world.  We then headed to the jungles of Iguazu before ending our trip in Mendoza, Argentina's outstanding wine region. Argentina might be a long and expensive flight [we used AA miles to avoid the expensive part and I made Lauren watch two of the three Back to the Future films to deal with the long part], but once there it was a very inexpensive place to live extremely well.  Each night in Buenos Aires we had insanely delicious meals – several courses of daily specials culminating with top quality steaks and including a bottle of high end wine – all for about $60 USD total (if memory serves me correctly). The culture and charm of Buenos Aires is unforgettable, the jungles and waterfalls of Iguazu are stunning, and the natural beauty of Mendoza's wineries situated beneath the Andes was the perfect end to the trip.
While in the region, we also had the opportunity to visit Chile, Uruguay, and Brazil on day trips… which was the starting point of an unexpected lesson. In those countries, we had no problems handing over our Chilean Pesos, Brazilian Reals, or Uruguayan Pesos, however in Argentina no one wanted our money. Or should I say their money.
It seemed as though in about 75% of transactions we made in Argentina, once the other party found out that we were American, they asked if we had US dollars. The first few times we shrugged it off, but the more it happened we took notice and started thinking about it. Granted no one was aggressive and we honestly didn't have many US bills on us so most just moved on when we told them we only had Argentine Pesos. But we still wondered about it.
A Bit of History
As I alluded to in the introduction above, at the start of the 20th Century Argentina was an economic powerhouse and became the 7th wealthiest nation in the world by 1910. Americans and Europeans came to Buenos Aires in droves to explore the beautiful architecture and culture that rivaled Europe in the "Paris of South America."  Unfortunately this would mark the peak of Argentina's glory days and the rest of the century would be all downhill.
By the end of the 20th Century Argentina was in full blown economic chaos.  One easy way to summarize what happened is to explain how the country continued to "add zeros" to their currency (note: never a good thing) from the 1940s on as economic conditions deteriorated.  In 1975 the highest bank note in Argentina was 1,000 pesos.  In 1976 it was 5,000 pesos.  In 1979 a new 10,000 peso note was introduced.  By 1981, just two short years later, the highest bank note was 1,000,000 pesos. Skipping forward, this would continue as the government continued to issue new notes or replace the currency altogether  (i.e. they replaced the old Peso with the new Austral, which were themselves replaced by new-er Pesos).  All of this nerdy stuff fascinating foreign exchange depreciation peaked as inflation was estimated to be 12,000% annually by 1989!  That is not a typo – twelve thousand percent.  Here's a great article from the New York Times from June of that year describing conditions in the country.  [Note: as an economics nerd I love reading news articles from the actual point at which events happened – it's very different reading news that is written after the fact from a historical perspective].
Well, as we were noticing that everyone preferred our Dollars to their Pesos it occurred to us that the 1989 hyperinflation wasn't that long ago was still very fresh in the minds of Argentinians.  How not-that-long-ago was 1989?  Here are some 1989 things:
The Cosby Show was the #1 show on TV
The Exxon Valdez spill occurred
Postage stamps were $0.25
The Energizer Bunny was introduced
Michael Keaton was Batman that summer
The Tiananmen Square protests took place in China.
And Richard Marx had #1 Billboard song Right Here Waiting (Note: he also had this haircut)
So the point is that if you remember these things… you would probably also remember if your currency had collapsed sending millions into poverty and desperation in the process.  And they do remember in Argentina.
We paid attention to this little trend of everyone wanting US dollars and finally had the opportunity to discuss our thoughts and observations with the owner of our charming little B&B in Mendoza.  He explained that people were afraid that the Peso would continue to lose value and that the government wouldn't be able to stop the slide.  It's never a good thing when citizens lose faith in their government's ability to prevent (or to fix) problems.  That's how bank runs start.
So as we were catching a cab to the Mendoza airport, our new B&B owner-friend told us "spend or exchange all of your Pesos at the airport.  They may be worthless if you come back."   I remember it quite clearly; that's exactly what he said.
It turns out, he was on to something and Lauren and I were witnessing first hand problems that would soon become very real for Argentina.  The following is a chart of the Dollar/Peso (USD:ARS) exchange rate for the past 10 years: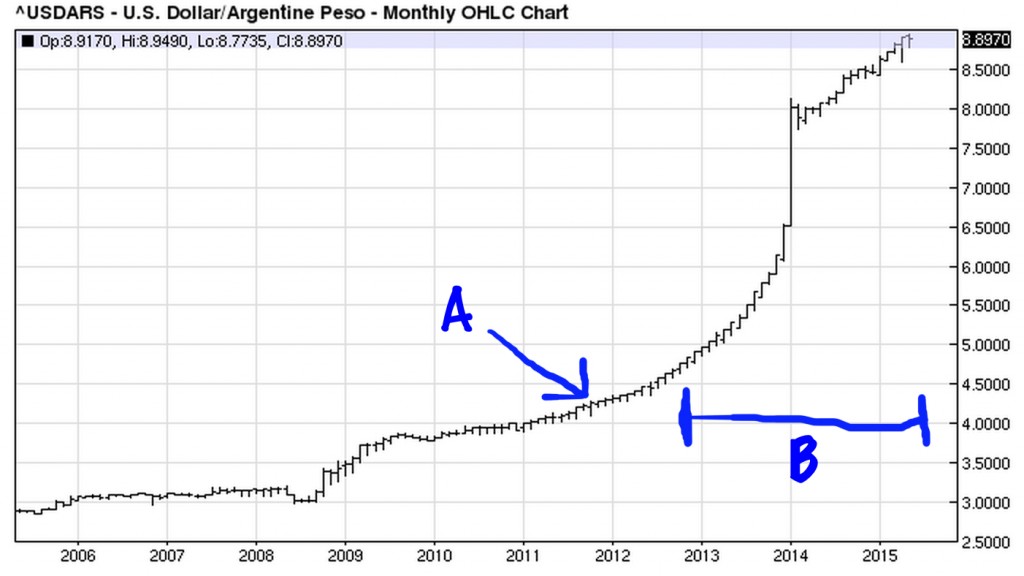 A: Christopher & Lauren visit Argentina and are informed by locals that something is up
B: Really bad stuff continues to happen to the Argentine Peso (like this and this)
Note: the two events are [probably] not related
So there you have it – currency devaluation.  When we were there at the end of 2011 $1 US dollar got you about 4.3 pesos.  Now it is almost 9 at the official government rate.  Or a dollar will currently fetch you about 13 pesos on the black market.  And a spread that wide between what the government tells you the currency is worth and what the local citizens tell you it is worth continues to be a big red flag!
Boots-On-The-Ground Research
I wanted to write this blog post early in the life of BackpackInvesting.com because it was an experience that Lauren and I have discussed often when deciding to go forward with our trip.   It's just a single example of how being on the ground in a country – even for a short while – gives one the opportunity to take the pulse of a country, economy, company, etc. through something as simple as exchanging money.
We hope that this experience (and it's positive alternative where a currency is strong) repeats itself many times over on our trip. We'll try to stay open minded about situations like this as they develop, always asking questions at each place we visit, and writing about them here.
We'll likely be passing through Argentina again in the spring of 2016.  Because I always like to keep some currency from each place I visit (and against the advice of our B&B friend), I'll have some Pesos that I kept from our 2011 trip to get us started.  Unfortunately they are worth less than half from when we last visited.
Thanks for reading,
Christopher
P.S. Don't worry I eventually had Lauren watch the third Back to the Future film.